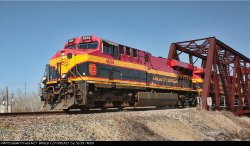 Welcome to the RRPictureArchives.NET contributor site of Scott Head.

My personal rail photos are usually anything that rolls on UP or BNSF through the Houston, TX area. KCS is also common here, and we have some shortlines that work the port and interface between the Class Ones. I am in earshot of the UP Galveston sub, former Mopac and MKT, former GH&H. I fondly recall pacing Mopac and the Katy down Highway 3 with my father as a kid.

I also have scanned collected photos acquired from estates and auctions for the benefit of all. These photos would likely end up in a landfill - scanning them preserves the work that the author put into them and adds a variety of fallen flags to the collection. Unfortunately on my collected photos, I usually do not know the identity of the photographers nor the location of the shots due to the nature of estate acquisitions. Most of the dates given on the older photos (if any are given at all), are taken from the film processing date.

Please feel free to comment on any of my photos, especially if you can identify a location on my collected photos.



---


You may browse my collection of pictures via the menu located on the left hand side of the page. I hope you enjoy the collection and thanks for stopping by!
Note: This site is best viewed in Internet Explorer 6.0 or above.
Select one of the links from the menu on the left to begin browsing the collection.